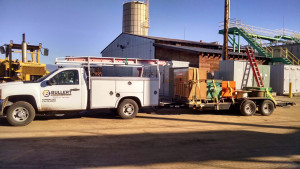 Bullert Industrial Electric, Inc.'s expanding customer base and rapid growth throughout Redding, CA is proof of the way Bullert's conducts its business and works with its commercial electric clients. As a company, we set ourselves apart from the competition in every market. Our team understands how important it is to complete projects on time, on budget and on point – the right way the first time. We know that commercial electric work and expense saved through effective management, quality work and error prevention yields a lower cost for our clients.
Commercial Electric Services Include:
WATER TREATMENT: Installation and development of the electric infrastructure, supporting water treatment systems.
CEMENT PLANT: Bullert knows and understands the complex industry standards and offers comprehensive, multilayered electrical systems, helping you achieve your objectives.
MINING: Power your mining operations safely and efficiently with Bullert's electrical systems.
INDUSTRIAL CONTROLS: Bullerts provides engineering, instrumentation, installation, and servicing on electrical control systems, and increase your output with the correct automation and controls.
MANUFACTURING: Bullert's offers electrical architecture to power your manufacturing operations.
WASTE WATER TREATMENT: Bullert's offers effective, wastewater treatment systems requiring complex electrical designs to cleanse water and prep it for reuse or return to the water cycle.
Safety Mission:
Bullert Industrial Electric, Inc. believes working safely is a value, not only to our employees and contractors, but also to our commercial electric clients. Bullert has built an environment where employees have been empowered to create a safe work space, instead of simply avoiding an injury or penalty. By offering our employees thorough training and education, we have cultivated a compliant and proactive team.