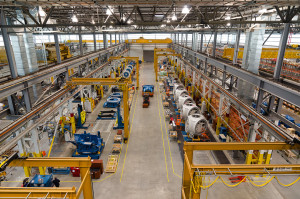 Bullert Industrial, Inc., is a locally owned and operated electrical construction company. Although we can handle any industrial or commercial job, we specialize in the water treatment, wastewater treatment, manufacturing, mining, and cement industries. Eric Bullert, president and CEO, began the company in 2013. Since then, we've successfully contracted a wide range of projects–including a municipal city well in South Weed, a street widening project for Buenaventura Boulevard, a Lehigh cement dust shuttle project, water and wastewater treatment plant improvements in Lakeport, and the Oak Bottom solar project. When the electric architecture in your Redding plant requires some skilled attention, get Bullert on your team.
Altogether, our team has a combined 85 years of experience. Because of that, we can handle every part of a project–from design to construction. We also offer ongoing maintenance, troubleshooting, and 24-hour emergency services. When you've got important processes to run or heavy industrial equipment to keep going, you need electric architecture that works. With Bullert, you'll get that.
Bullert approaches every job with precision and excellence. We do it right the first time so that you can avoid expensive rework. We're committed to keeping your costs low. At the same time, we ensure that your job meets the highest safety and industry standards. To do that, we've procured MSHA Part 46 Surface Mining and Part 48 Underground Mining Certification and Arc Flash training. Our team is equipped to handle difficult conditions, unusual terrains, and a wide variety of projects.
When you need a company with the commitment to quality and the track record of solid customer service, look to Bullert Industrial, Inc. We are located in Anderson, just a short distance away. We'll design the electric architecture at your Redding operations to last for the long term. Contact us today to find out how we can meet your needs.