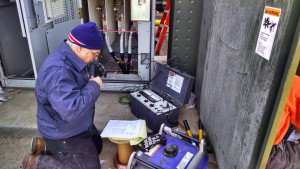 Bullert Industrial, Inc., is your local electrical construction company. With over 80 years of collective experience, our team is well equipped to take your industrial project from design to completion. When you need a new or improved electric infrastructure at your Redding operation, get Bullert on board. We provide services to water treatment plants, wastewater treatment plants, cement plants, mining operations, manufacturing plants, and more. If it's an industrial or commercial project, we can handle it.
Electric infrastructure for industrial and commercial operations is complex. But with Bullert, you don't need to worry that your systems will be installed with shoddy workmanship. We make sure that every system is compliant with the highest level of industry standards and regulations. Our goal is to ensure that your operations run smoothly and continuously. For that purpose, we provide expert service on industrial controls, motors and controls, electrical troubleshooting, and heavy industrial construction.
No job is too simple or too complex for us. Green energy is part of our project lineup. We've serviced powerhouses, making it possible for alternative energy to be available for public consumption. To that end, we've contracted the Oak Bottom solar project, in which we installed a 10kW grid-tied photovoltaic system, along with the required accessories. Other projects include a street widening project, a cement dust shuttle system, and a municipal well development project. On every project, we help you achieve your goals.
You can choose Bullert Industrial, Inc., for construction or maintenance of your electric infrastructure at your Redding operations. Fortunately, for ongoing services, we're located nearby in Anderson. So if you need 24-hour service, we'll be only a short distance away. With Bullert, your industrial or commercial project will be in good hands. We've proven ourselves on multiple assignments, in various types of terrain, and in difficult conditions. Contact us today to find out how our services can meet your needs.