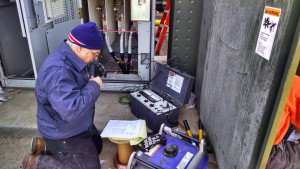 Offering smart, safe electrical design, Bullert Industrial Electric, Inc. offers the supervising, development and installation of electrical equipment, lighting, power systems, power distribution, fire and life safety systems, electronic components and electronic infrastructure. Rest assured that your vision will become a reality.
As a company, Bullert sets itself apart from the competition by focusing on completing projects on time, on budget – the right way, the first time. Our team understands that electrical design time and expense saved through proper management and oversight, quality work and error prevention offers a low cost for our clients. By offering our employees thorough training and education on the latest in industry trends, we have cultivated a talented and proactive team.
Bullert Industrial Electric, Inc. offers a variety of electrical design services throughout the Redding, CA area.
WATER TREATMENT:

Bullert installs and develops the electric infrastructure to support every scale of water treatment systems. Our designs allow clients to effectively treat ground and surface water.

MINING:

Our electrical systems power your mining operations safely, effectively and efficiently. The Bullert Team understands the needs of underground, tunneling, and surface mining, and ensures that all of your equipment complies with industry regulations and standards.

CEMENT PLANT:

Bullert knows that your cement plant needs a solid electrical infrastructure. We understand the complex industry requirements and provide the comprehensive, multilayered electrical systems.

INDUSTRIAL CONTROLS:

Bullert offers a full range of services for industrial controls. Our knowledgeable team provides engineering, installation, instrumentation, and servicing on electrical control systems, increasing your output.

WASTE WATER TREATMENT:

With Bullert's electrical design, waste disposal and water reclamation are streamlined with minimal negative impact to the environment.

MANUFACTURING:

Bullert provides skilled electrical architecture to improve the output of your manufacturing operations.